MUMBAI: Despite the 2,000-odd cases being diagnosed in the city every day, 35% of the beds reserved for Covid-19 patients remain vacant. Yet, if one were to look for ICU beds, only about 10% were available.
The BMC daily dashboard of Covid-19 beds — both in the public sector and private showed 5,150 of the total 14,859 beds were vacant on Sunday morning. Of the vacant beds, 4,157 are in public hospitals, including BMC's jumbo or field hospitals. Even BMC's best-known super-specialty hub, KEM Hospital, has vacant beds in its Covid-19 section. A senior doctor said that 20% of the beds were vacant. KEM dean Dr Hemant Deshmukh said the hospital had 200 Covid-19 patients at any given time while it used to have 500 cases on average in the May-June period.
TimesView
If ICU beds are in short supply while regular ones are easily available, it may also point to the late admission of patients with Covid. Six months into the pandemic, the public probably still needs to be made more aware of the dangers of self-medication and the reluctance to seek treatment in the early stages of the disease. On the healthcare front, ICU bed capacity has not been ramped up as much as promised.
Opposition leader in BMC Ravi Raja said he was not convinced with BMC's claim about there being adequate beds for Covid-19 patients.
Ravi Raja said: "The BMC is providing misleading information. We called up the BMC helpline, civic and private hospitals for an ICU bed for one of my Covidpositive associates (on Tuesday), but everywhere I was told that the bed was unavailable. We got the bed only the next day."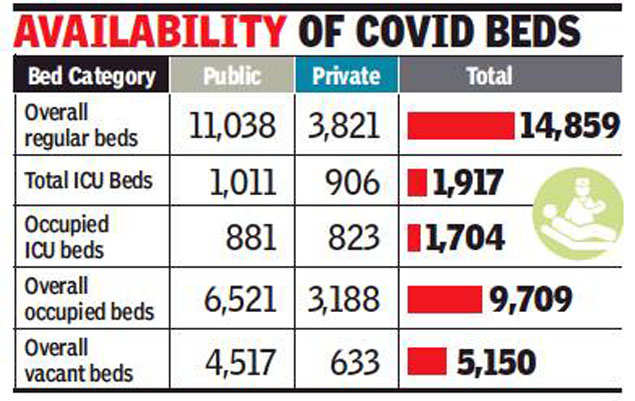 On Sunday morning, about 65%, or 9,709 (6,521 in public hospitals and 3,188 in the private hospitals), of the total beds were occupied, according to the BMC.
BMC officials said there were two reasons for such an experience. Firstly, the limited number of ICU beds available in the city. While 90% of the 906 ICU beds available for Covid-19 patients in the private sector were occupied, 87% of the 1,011 ICU beds in the public hospitals were taken.
Secondly, demand is more for private beds than for public ones because of the patient profile at the moment. Municipal commissioner I S Chahal recently said at a CII conference said that in the previous 45 days, 80% of the cases were coming from nonslum areas. These residents with financial means would not like to get admitted to BMC's jumbo facilities as they prefer private hospitals, causing a high demand.
Another reason for the bed crunch is that many asymptomatic patients seek beds out of fear, said municipal officials.