MUMBAI:
Maharashtra
's biggest ten-day festival of
Ganeshotsav
will be observed on a muted note beginning Saturday. The state government as well as the Samanvay Samiti, which is the parent body of
Ganpati mandals
, have each called for restraint and
social distancing
as the Covid-19 virus continues to spread on an alarming scale.
The
Lalbaugcha Raja mandal
will launch a ten-day long blood donation drive while forgoing its
customary idol
of 86 years. Ganesh Gully and GSB King's Circle, like most mandals, are encouraging worshippers to obtain online darshan instead of forming physical queues. Masks are mandatory at pandals. Several mandals have reduced festivities to one and a half days, and will immerse their idols Sunday in artificial tanks built on site.
Creativity and innovation are not the sole preserve of mandals, household idols are equally enchanting. Twelve-year-old robotics fan Neil Jhamnani of Thakur Village, Kandivli, has crafted what he calls a 'Robo Ganu'. His proud mother Sakshi says he designed, coded and programmed the Robot Ganesh by himself with no help. "The idol has in-built sensors. The Ganpati says that it is hungry and upturns its palm asking to be fed modak. Once you place the sweetmeat in its hand, it offers to grant you a boon, and when you make a wish, the robot raises a hand in blessing and replies, 'Tathastu' (So be it)," laughs Sakshi. A motorised mooshak nods and accepts the "last modak".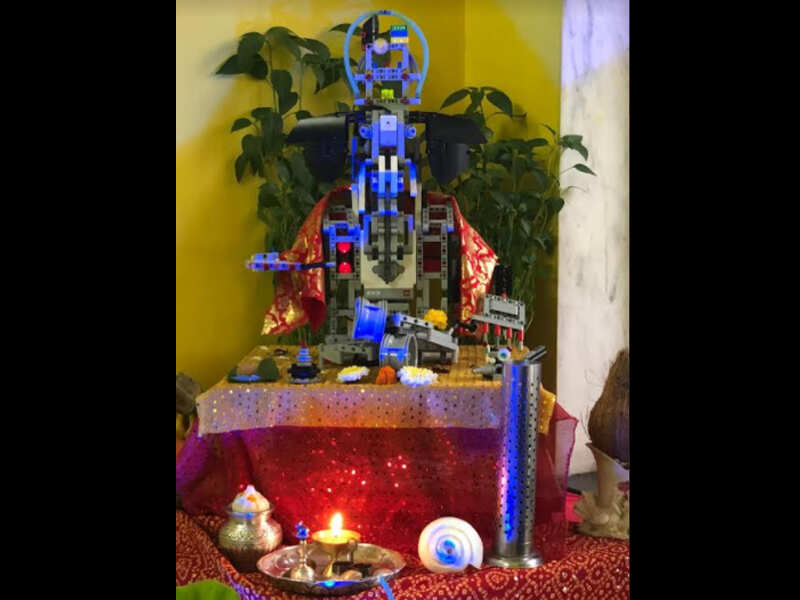 Over in Dattapada, Borivli East, Pratik Pradhan has placed his household idol inside a model of the Gateway of India. "I want to depict how the city of Mumbai which could not be halted in its tracks by the 1993 serial blasts, 2005 floods or 2008 terror attacks, came to a standstill because of coronavirus," Pratik said.
On Friday, groups of devotees gathered at idol makers' outlets to collect their moortis amid heavy showers. Masks and social distancing norms appeared to have taken a backseat. In fact the alarming throngs of shoppers that flocked to Dadar and Lalbaug markets for flowers and decorations Thursday, prompted the Brihanmumbai Sarvajanik Ganeshotsav Samanvay Samiti to call upon people to observe physical distancing norms. However, the Samiti is only the parent body of Ganesh mandals, so individual devotees tend to disregard its sane counsel.