NEW DELHI: "We all became hockey players because of the legacy of Dhyan Chand's three Olympic gold medals." Gurbux Singh takes pride in celebrating India's first Olympic gold as an independent nation at the 1948 London Games, but the 1964 Tokyo Olympic gold medallist firmly believes that an additional five gold medals at the Games after 1936 wouldn't have been possible without the standards that Dhyan Chand's wizardry had set.
On August 12 in 1948, 72 years ago, India defeated Great Britain at the Wembley Stadium in London for its fourth consecutive Olympic gold in hockey but the first as an independent nation. What made the success sweeter was that India defeated its former rulers, the Britishers, on their own soil. India won 4-0, led by two goals from the Late Balbir Singh Sr.
The only living member from the 20 players who featured in the 1948 Olympics campaign for India is Keshav Dutt.
In 1948, the Olympics made a return following World War II which didn't allow the Summer Games to take place in 1940 and 1944. Before that, from 1928 to 1936, India had won three consecutive gold medals, but played under the Union Jack. Had it not been for WWII, the hockey fraternity the world over believes that Dhyan Chand would have had five gold medals to his name.
"Such historic moments not only inspire but also tell that there's a lot to look forward to, and the way things have been working for Indian hockey in spite of these unprecedented times (of Covid-19 pandemic), God willing, the day is not far when we will experience the same (triumphant) days," former India centre-forward Jagbir Singh told TimesofIndia.com.
From 1928 to 1956, India won six consecutive gold medals at the Olympics, before Pakistan snapped their streak in Rome in 1960. But in 1964, India removed Pakistan from the top to clinch a seventh gold medal. India's eighth and last gold medal in hockey to date was won way back in 1980.
Harbinder Singh, who was Gurbax's team-mate during the 1964 campaign in Tokyo, said it has been his good fortune that he was guided by the 1948 gold medal-winning players for most part of his career.
"It (1948 win) is important because after partition and independence, it was our first Olympic gold. My personal good fortune has been that the captain of that team, Kishan Lal ji, was my coach when I played for the Railways; and later I even worked under him as an assistant coach," Harbinder told TimesofIndia.com.
"For most part when I played for India, the legends were attached to the team in some capacity. Dada Dhyan Chand was our coach in 1963, Keshav Dutt and KD Singh Babu in 1972 as coach and manager, RS Gentle was the coach in 1966 Asian Games."
But he echoed Gurbax's sentiments that it wouldn't have been possible without India's success with Dhyan Chand.
"But if you see, if India's name in the sport is famous around the world, it's because of the three gold medals our team won with Dhyan Chand," said Harbinder, who also has two bronze medals from the 1968 and 1972 Olympics.
Gurbux, who lives in Kolkata now, said that while we must celebrate every success, no one triumph is lesser than the other.
"Emphasis is required, I agree. It is a pride, no doubt about it. But who took hockey to that level? We all (later generations) became hockey players because of that tradition," Gurbux, whose second medal at the Olympics was a bronze at the 1968 Games, further told TimesofIndia.com.
"For me, Balbir Singh Sr, (Leslie) Claudius, Keshav, Gurbax Singh and others wouldn't have been there if probably Dhyan Chand and the Indian team hadn't achieved what they did in 1928, 1932 and 1936. They put hockey on the pedestal."
Former India coach Harendra Singh, meanwhile, recalled the moment when he was able to touch one of the 1948 gold medals given to the victorious Indian team.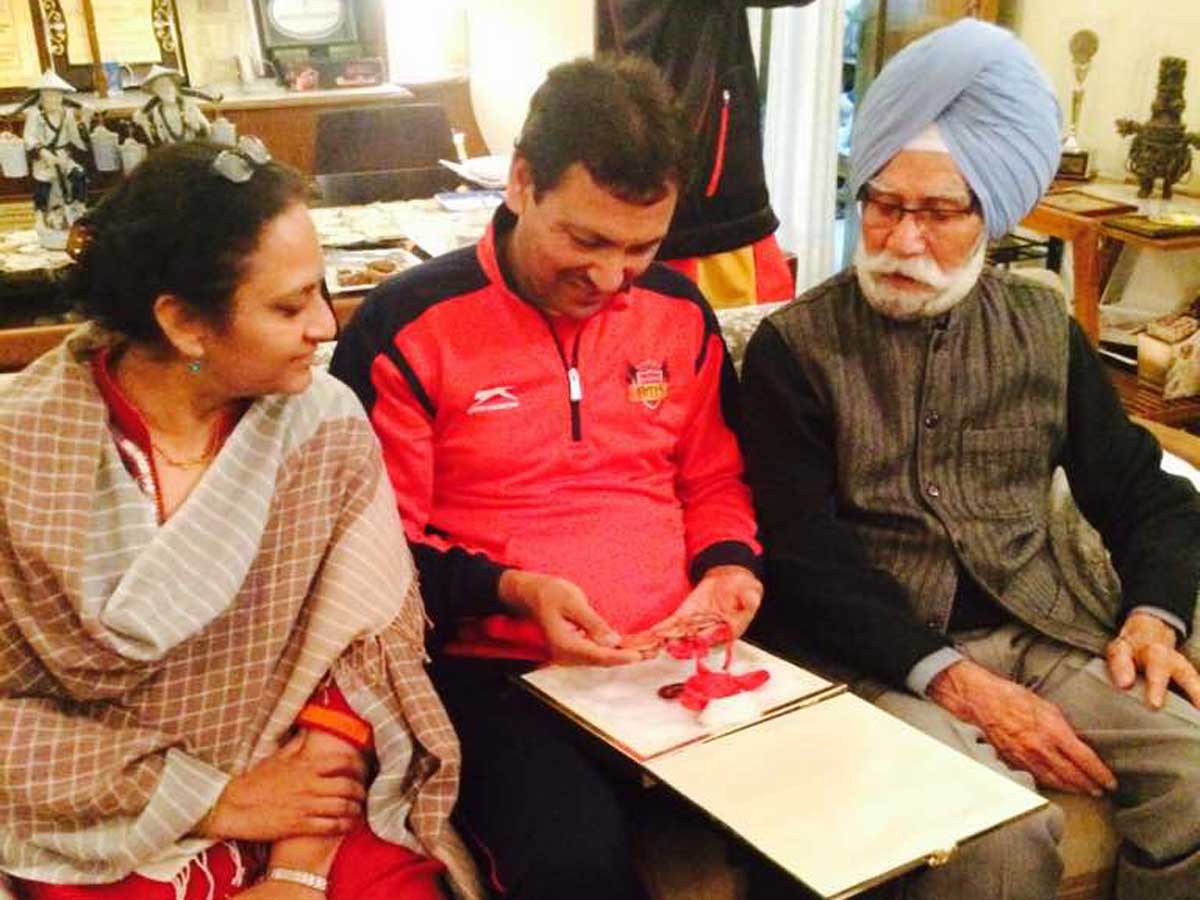 "I am among those fortunate coaches who could touch that 1948 gold medal in Balbir sir's presence at his home. He was very emotional and I got emotional as well," Harendra, who coached India's junior men's team to World Cup success in 2016, told TimesofIndia.com.
Harendra believed that making the younger generation aware of our legacy and history is as much the responsibility of the hockey fraternity as it is of the government or the federation.
"We should not expect only the federations and governments to promote history. Until we ourselves take initiatives like going to schools and colleges and telling the students about our legacy and history, it won't happen. Not everything can be written in educational books. It's our duty."