As the Central and state governments allow phase-wise relaxation in curbs to get the life up and running again following over two months of lockdown to prevent the spread of Covid-19, we bring you the latest updates from Mumbai.
*Update at 3.45pm
: Maharashtra chief minister Uddhav Thackeray on Sunday indicated that the ongoing lockdown restrictions will go beyond June 30, though the Unlockdown process is being gradually implemented to put the economy back on track. (IANS)
*Update at 2.50pm:
Another constable dies of Covid-19, death toll in Mumbai Police force reaches 38
*ANI update at 2.40pm:
Day after tomorrow we will be observing National Doctors' Day. They are fighting for us, I offer my gratitude to them. Covid-19 is not over yet, we will tackle this issue together. We should not be restless and go out unnecessarily: Maharashtra chief minister Uddhav Thackeray
*ANI update at 2.35pm:
The process to waive off farm loans has been delayed due to the model code of conduct during local body elections and Covid-19 pandemic in Maharashtra. Now, we have decided to write off loans of the remaining farmers: Maharashtra CM Uddhav Thackeray
*Update at 2.30pm:
Salons reopen in Thane on Sunday
* Update at 1.48pm: Lockdown won't be lifted in Maharashtra post June 30, but more relaxations will be given: Uddhav Thackeray
* Update at 12.00pm: Moving more than 2km away from your home, for purposes other than essential services or going to office, will land you in trouble. The Mumbai Police on Sunday issued guidelines stating that all vehicles that ply in areas away from home without valid reasons would be impounded. The reason for this direction is overcrowding at beaches, promenades and public places while Covid-19 infections are still rising. Whether going for shopping or exercising, every trip should happen within a 2km radius, police said.
Crossing 2-km radius in Mumbai? Your vehicle will be seized https://t.co/ouR1X8lJWw

— TOI Mumbai (@TOIMumbai) 1593327004000
* Update at 11.40am: Disinfectants being sprayed in Thane by TMC workers
Visuals: Disinfectants being sprayed in Thane by TMC workers#coronavirusoutbreak #CoronavirusPandemic https://t.co/CsISoUQOBa

— TOI Mumbai (@TOIMumbai) 1593324619000
*Now, incoming maids quarantined in Mumbai hotels
*The Deonar slaughter house is set to resume operations from July 3 after the BMC on Friday issued a circular permitting it to start functioning again. However, a slew of instructions has been put in place.
*ANI update at 10.32am: Barber shops & salons reopen in Mumbai. An owner says, "I thank govt for allowing us to reopen. We sanitise every equipment before their use. Salon is also sanitised every 2 hours."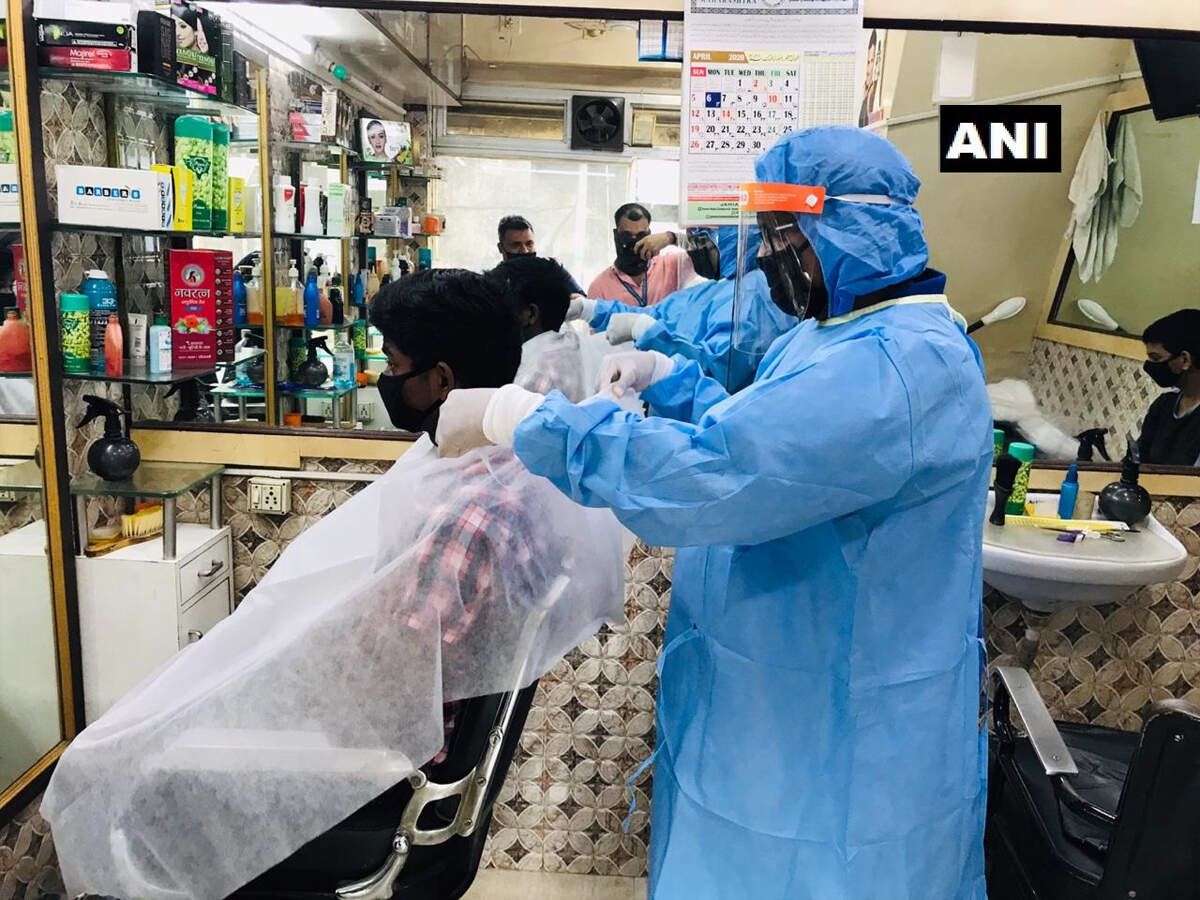 *Update at 10.08am: Record single-day jump of 19,906 Covid-19 cases pushes India's tally to 5,28,859; death toll rises to 16,095 with 410 new fatalities, reports PTI
*This week, the civic corporation will start using rapid tests, which can reveal a person's Covid status within 15 minutes. Currently, the real-time polymerase chain reaction test gives results in six to eight hours.
*The BMC has planned serosurvey in three wards to know the spread of Covid-19 infection.
*When the Covid-19 outbreak started in early March, most cases were confined to Mumbai, which has high population density and vast slum pockets. But Mumbai's share in the state's daily caseload has reduced considerably over the past few weeks.
*Maharashtra monitors Covid-19 situation in Jalgaon, Aurangabad, Solapur
*Both Maharashtra and Mumbai witnessed their biggest one-day jumps in Covid cases on Saturday, with the government attributing the increase to the reconciliation process.
*Maharashtra 's tally rose to 1.59 lakh with the addition of 6,368 patients, Mumbai saw 2,077 new cases pushing its count up to 74,252.