It started in June this year with a message to former India hockey coach Harendra Singh. The context was contacting Pakistan's hockey legend Sohail Abbas. "Bahut time se kuchh suna nahi uske baare mein (haven't heard about him for a long time). Waseem se poochhta hu (let me ask Waseem)". Harendra was talking about Waseem Ahmed, the former Pakistan hockey captain and the most capped (410) Pakistan player.
Waseem was in Australia. He settled there in 2015 — living in Melbourne now, attached to the Southern United Hockey Club as a player cum coach.
"Just had a chat with Waseem. He was at the ground playing a match, but he sounds positive." That was the text from Harendra after he checked about Sohail with Waseem. The 'positive' was about the chances of contacting Sohail.
All this while, Sohail's number rested undialled in the phonebook of the author, until it was finally used via WhatsApp. First message, second message, third, fourth, fifth – no reply. It was time to ring, take a chance. No success for days. Then one day, a pleasant surprise. The call was answered.
"Sohail Bhai, Salaam." An India number flashing on his phone must have established the call's relation to the WhatsApp messages from a couple of days ago. "Wa-Alaikum-Salaam! Abhi main grocery kar raha hu. Aap apni introduction message karein (I am grocery-shopping, please introduce yourself over a message)".
It was already done, but no harm repeating it. So an introductory message was sent.
Days of silence followed. No message from him. To knock at Sohail's door once again, former Pakistan captain and coach Tahir Zaman was reached out to for help. "I will try to contact him and try my best. Will update you after having a word with him" was Tahir's reply.
More silence. No update. Nothing from Waseem in Australia or Tahir in Pakistan.
Time to call Waseem.
"O karda ni gall kise naal zyada, mein puchhdaan (he doesn't talk much, let me ask)," Waseem said in Punjabi over the phone from Melbourne.
By now, advice had started flowing in from all directions. One was: "Try calling Salman Akbar. Sohail is a good friend of his."
The next call went out to the Netherlands – fourth country contacted in mission 'Contacting Sohail Abbas'. The new discovery through Salman was that Sohail possibly had a manager. That route wasn't left unexplored, but all it delivered was a promise initially, followed by no response despite repeated attempts.
It was August. Hope was fading, almost given up. Waseem in Australia, Taheer in Pakistan and Salman in Netherlands all tried helping, not to forget Harendra in India, who initiated this thread. But Sohail was becoming as difficult to find as that ball had been to spot, which flew off his stick and rocketed through the Indian net at Amritsar in 2004 for his world record 268th goal, surpassing Netherlands' Paul Litjens. Umpires couldn't see it, nor could the defenders. But it was a 'goal'. This situation was almost similar. Couldn't contact Sohail, in hope of finally meeting that 'goal'.
September came and went, but perhaps it was destined to happen on October 8, when Sohail would respond — the same day when he scored that world record goal 16 years ago. Sohail replied to a congratulatory WhatsApp message, tagged with a request for two minutes on the phone.
'Okay, let's talk. Call," he wrote back.
FINALLY, FOUND SOHAIL
This was 348 international goals on the other side of the call across the border. Nobody has come even close to that number since Sohail put his stick down after the 2012 London Olympics. Not to forget, he left the game for two years in between, so make that missing out on at least 75 goals, if not more.
When the thread of how messages were sent across four countries to coaches and his former teammates was revealed to Sohail, his reply was straight.
"Harendra sir ka message aaya tha. Arre aap bado ko beech mein daal dete hain. Main aisa hi hoon (Harendra messaged, you guys involve seniors, but I am like this only)," he said.
"Jab mein khel raha tha, to mein khamosh rehta tha. Logon ko lagta tha ki attitude aa gaya. Jab mein hockey chhodne laga to bole jaan bujh ke kar raha hai…Asal mein logon ki baatein waqt ke saath badalti rahi, par mein andar se abhi bhi waise ka waise hi hu (I used to be quiet in my playing days, so people thought I have an attitude problem. Then when I left the game, they said I am doing it on purpose. So people's opinion kept changing, but I am still the same)."
'DICIPLINED LIFE IS MY BEST FRIEND'
If you watch Sohail's recent interview on BBC Urdu, it would be hard to believe how the world's highest goal-scorer is not playing still. Of course, he is 45 now and you don't see quadragenarians playing international hockey. But Sohail, a fitness freak, carries the jawline of a Sylvester Stallone in 'Rocky Balboa'. In a body-hugging T-shirt, with surely a six pack underneath, his physique can match the best on the field even today. To put it in context, he would probably pass a yo-yo test with embarrassing ease.
This lifestyle of training and discipline is his "best friend", Sohail states.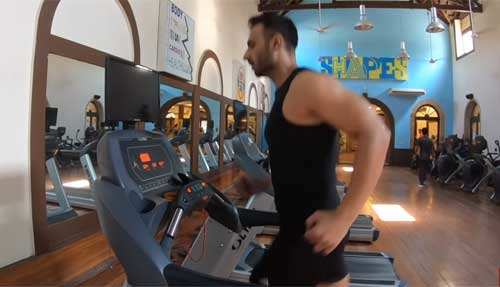 (YouTube video grab)
"Fitness is a discipline, not just running, gym or diet. I think I train more now, not to come back to play hockey but it's a 'junoon' (obsession). I hit the gym for 2-3 hours daily, which includes crossfit, weight training. I even train with my friends who do 'Ironman', which includes swimming, cycling, half-marathon. So this training and disciplined life is my best friend — sleep on time, wake up on time, eat on time," Sohail told TimesofIndia.com.
"What I used to do then (during playing days), I did in right earnest, and what I am doing now, I am doing that in right earnest as well."
Talking to Sohail, it's not difficult to discern that he carries high religious beliefs and trusts whatever God decides for him is best. The hockey legend calls scoring a still standing world record of 348 goals destiny.
SILENCE IS GOLDEN
"When I was playing hockey, I never knew that I will go on to play so well that I will set a new world record (for goals scored). I always believe in doing the task at hand honestly and leave the rest to God," said Sohail, who has a job with WAPDA.
The conversation grew well past the two-minute promise. No one complained. Sohail was at ease now, almost like he used to be while getting up from the bench to take a penalty corner, score and go back to relax. Job done. That's how it used to happen in those days with drag-flickers, until Sohail became the leader of Pakistan's defence and eventually the team's captain.
Sohail retired from international hockey for two years, before deciding to come back. But he remained very cautious of the fact to not put the onus of his decisions on any outside force.
"A lot was said about me, but I never reacted. Silence is the biggest weapon (reply). That's why you don't see me in the news," said Sohail, still the only man to score two double hat-tricks and 21 hat-tricks.
"People used to say that you are being treated wrongly, you should be in the team. But that's what those people thought. I always thought of improving myself, because ultimately God decides what you get."
"You say Pakistan hockey needs its legends (to revive the sport). You are right, but that's for those people to think who are there to take these decisions."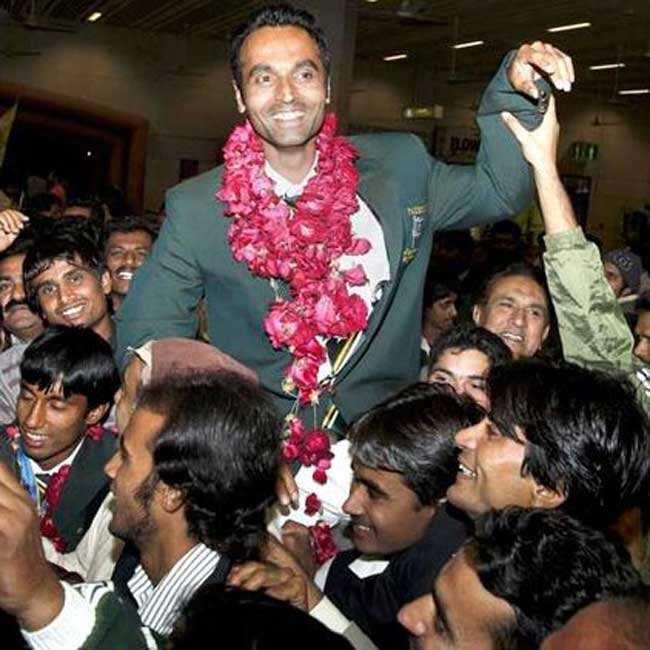 (Photo Source: Twitter)
MILESTONE MAN
Decorated with the 2010 Asian Games gold, four Champions Trophy medals and a Commonwealth Games bronze, Sohail was the undisputed 'goal king' of his times, despite always ruing the fact that he couldn't take the team to the podium in any of the three Olympics he played.
For the record, he has also scored the most goals in Champions Trophy history (34) and in an international calendar year (60), leading up to his final tally of 348. And he was also the fastest to 100, 200 and 300 goals.
"I have always believed that for an Asian team to win an Olympic medal is not a problem, rather we ourselves are the problem…Why we are after foreign coaches is because they are thorough professionals and do their job. They don't bother about who is from Karachi, Lahore, Amritsar, Delhi, etc. All they know is he is an Indian, same for Pakistan. Such things have brought us down," Sohail further told TimesofIndia.com.
INDIA DIARIES
It's difficult to talk to a Pakistan hockey icon and not touch upon the camaraderie he shared with players from the other side of the border in India.
To get him involved, it's best to mention the name of Indian great Dhanraj Pillay and Jugraj Singh, both of who had rushed fearlessly against Sohail's lethal drag-flicks.
Dhanraj once told Timesofindia.com: "Jab bhi Sohail penalty corner lene aata tha, wo dekhta tha Dhanraj bhai aa rahe hain kya (whenver Sohail used to step up to take a penalty corner, he would see if Dhanraj is coming in to rush).
"These are our legends," said Sohail. "Talking about Dhanraj bhai, he, (Mohammad) Riaz bhai, Shahbaz bhai, we used to watch their brilliance. I have played with them in the league in India (Premier Hockey League) and against them internationally."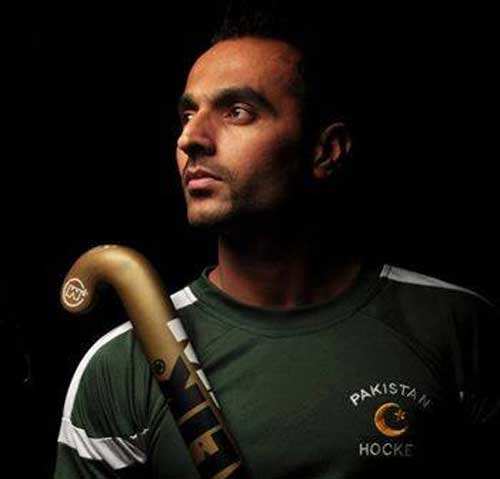 "Once Dhanraj bhai's shinbone got fractured with my flick, and also once Dilip Tirkey, who is also my good friend. He got hit with my flick at the goal-line and had a broken bone."
Sohail then shared how an angry Dhanraj would react at times on the field without letting the umpire know.
"The best thing about Dhanraj bhai was that he was very patriotic and used to fight for his nation. He never carried an attitude. I was a quiet youngster. So he would say, "Arre miyan, tum to bahut hi saade aur sharif ho. Ye to bahut hi acchha bacha hai (you are very reserved, a good kid)," Sohail recalled.
"On the ground in India vs Pakistan games, there were heated moments often but even if he (Dhanraj) would get angry, he would swear with a smile on his face, because the (foreign) umpires used to watch our face as they didn't know our language."
Jugraj, in true sense, was India's first drag-flick specialist, who unfortunately had his career cut short due to an accident. Sohail picked him and Sandeep as India's top flickers.
"Jugraj was one of the good Indian flickers. He would always ask me, "Paaji kuchh dasso (brother, teach me)". He took a hockey stick from me as gift, and then even Len Aiyappa took a hockey stick from me. Then there was Sandeep Singh."
'INDIA DOING WELL IS GOOD'
'What has changed?' was the next question, especially in context of Pakistan hockey that has hit a nadir.
"During our time, there was more hard work. It's not the same today. The thought now is how to earn fame. Thinking has changed. Whether India or Pakistan, the thinking now is how to make a name for myself, be it any profession. Overall, Indian hockey is doing better, which is a good thing for Asian hockey," Sohail told TimesofIndia.com.
The WhatsApp call had touched 17 minutes now, with potential to grow much longer as the anecdotes had started flowing.
And just before the interview was wrapped up, Sohail's final comment described how mission 'Contacting Sohail Abbas' became a success on October 8.
"Maze ki baat ye hai ki maine apna Internet bhi abhi on kiya tha. (The funny thing is I had just switched on my internet). The entire day, I didn't. And then your message came at the same time."