MUMBAI: More than 24 hours after a 35-year-old homemaker fell into an open manhole on a flooded road near her home in Ghatkopar's Asalpha village during Saturday's downpour, her body was found floating in the sea near the Haji Ali traffic chowky, more than 20km away, late Sunday. Autopsy revealed Sheetal Bhanushali had died due to drowning and was Covid-19 positive.
The incident is eerily similar to the death of Dr Deepak Amarapurkar in 2017. He was walking to his Prabhadevi home when he slipped into an open drain on a flooded road. His body was found in Worli two days later. While the doctor's umbrella next to the drain provided the clue that he had fallen into it, in the Ghatkopar incident, the woman's bag was found next to the manhole the next morning.
TimesView
Despite the BMC's clear denial, a full-fledged investigation must be carried out in the matter by the police and responsibility fixed in case it is established that the woman indeed fell into a manhole. The reason the civic body does not inspire confidence is that a similarly horrific incident had taken place in 2017 in which a doctor lost his life. If civic authorities are found responsible, action should be initiated swiftly against negligent officials and staff.
While local residents and politicians blamed BMC for negligence, officials claimed the manhole was not big enough for an adult to fall into and that the Ghatkopar drain is not connected to Worli nullah.
BJP's Kirit Somaiya, who filed a complaint against BMC with Ghatkopar police, was the first to tweet, "Sheetal died due to criminal negligence of BMC…drawn in the manhole at asalpha Ghatkopar, Mrutdeh (dead body) found at Worli."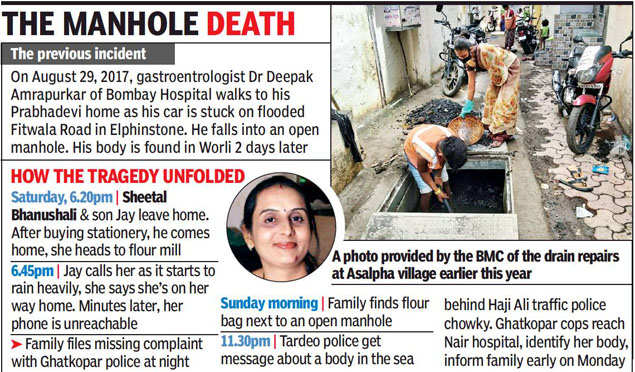 He said the residents had told him that the drain had cement covers, but in January, the BMC took up repairs and did not replace many manhole covers.
However, Manish Vallunj, assistant municipal commissioner of L ward (Kurla) said the manhole where Sheetal is reported to have slipped into was not wide enough to fit an adult. "Besides, there are pipelines inside the manhole. Also, the drain network from here travels via Safed pool near Saki Naka and flows into Mithi river, which further drains into the Arabian Sea at Mahim. This network is not connected to the Worli nullah. We are investigating how her body reached there," he added.
Sheetal was married to Jitesh, who works in a readymade garments shop in Dadar, for 14 years. The couple has son Jay (12) and a two-year old daughter. Sheetal was last seen with her son Jay on Saturday evening.
Jitesh's cousin Sanjay told TOI: "The mother-son duo had stepped out around 6.20pm. Jay bought stationery for his school project and returned home, while Sheetal went to the flour mill. At 6.45pm, when it started raining heavily, Jay called her on WhatsApp and she told him that she was on her way home. But minutes later, her mobile was unreachable.'' The family searched the area and scanned CCTV cameras on private premises, but could see anything as it was dark and raining. They then lodged a missing complaint with the Ghatkopar police.
On Sunday morning, the family resumed their search as the water had receded. They found her flour bag next to an open manhole.
By then, around 11.30pm, Tardeo police received a wireless message about a woman's body being spotted in the waters behind Haji Ali traffic chowky. "Our team fished out the body and sent it to Nair hospital," said Tardeo senior police inspector Feroz Bagwan.
A Ghatkopar police team reached the hospital and identified the body as Sheetal's from the photograph submitted by her family. The Bhanushalis were informed about Sheetal's death on Monday morning. Sanjay said: "Nowadays, manholes are fitted with plastic covers that open with the water pressure when drain overflows. Had the BMC placed a cement cover, it would have saved Sheetal's life.''
Ghatkopar police said initial investigations indicate that Sheetal fell into the manhole and drowned. An accidental death case has been registered at Tardeo police station.