NEW DELHI: IPL franchises were locked in a bidding battle for Mumbai youngster Yashasvi Jaiswal in December last year. His base price was Rs 20 lakh and he was eventually bought by the Rajasthan Royals franchise for Rs 2.4 crore. Not bad for a then 17-year-old cricketer. But then Yashasvi, who had to go through a lot from the time he moved from Bhadohi in Uttar Pradesh to Mumbai, including working part time and staying at a dairy shop and then selling paani-puris and living in tents had impressed a lot of people with his cricketing talent. He showed just why franchises were willing to shell out big bucks for him when he went on to score 400 runs in the u-19 World Cup earlier this year and was eventually adjudged the player of the tournament.
Yashasvi attracted initial bids from Mumbai Indians and Kolkata Knight Riders, but it was Rajasthan Royals who finally won the bidding battle.
With the IPL all set to begin from September 19 in UAE, the 18-year-old is now excited for his first taste of the tournament and is looking forward to sharing the dressing room with the likes of captain and Australian batting star Steve Smith and England's fiery fast bowler Jofra Archer. The 13th edition of the cash-rich league will be played across three venues – Dubai, Abu Dhabi and Sharjah in the UAE from September 19 to November 10.
"I am really excited to meet Steve Smith. It is going to be a big opportunity for me. I have seen him play, but IPL and RR have given me the platform to meet the legendary batsman and learn from him. I want to ask him about his mindset. I will ask him about the technical aspects of the game and how he prepares before a match," Yashasvi told Timesofindia.com in an exclusive interview.
"I want to face Jofra Archer in the nets. He is a very different bowler and you can't judge him. He is a very talented bowler. I want to play him and improve my game. I am really excited to meet and learn from both Smith and Jofra," he said.
"During the lockdown period, I was in touch with RR coaches. They have helped me a lot in this period. I have followed their tips closely. They said do as much as you can in terms of work outs and regular exercises. I am really happy and lucky that I have a very good family like Rajasthan Royals and I am really proud to be a part of that family," Yashasvi, who opened the batting for India in the u-19 World Cup further told TimesofIndia.com.
U-19 WORLD CUP JOURNEY
The Bangladesh bowlers directed a barrage of sledges against him, because he was seen as the danger man, but the young Mumbai batsman Yashasvi Jaiswal remained calm and composed during the ICC Under-19 World final. He was watching his team-mates falling like 9 pins, but he stood tall and fought bravely and went on to score 88 on a tough pitch. Yashasvi's 121-ball patient knock helped India post 177 on the scoreboard. But the total wasn't enough as India suffered a three-wicket loss (DLS) and couldn't clinch the title.
But for Yashasvi, the memories of that World Cup journey will always be special, despite the fact that they couldn't emulate what the Indian title winning teams in 2000, 2008, 2012 and 2018 had achieved.
"Those are special memories. The experience of playing the World Cup will always be with me and I will cherish that. I had worked really hard for that tournament. Be it fielding, batting or bowling, I prepared myself in every department and for every situation," the 18-year-old said.
"I was happy with my performance in the u-19 World Cup. The World Cup was not the end of the road for me, I have to go a long way. I have to focus on what I am going to do next. The coaches and the support staff, during the World, helped me a lot. They guided me at every step," he said.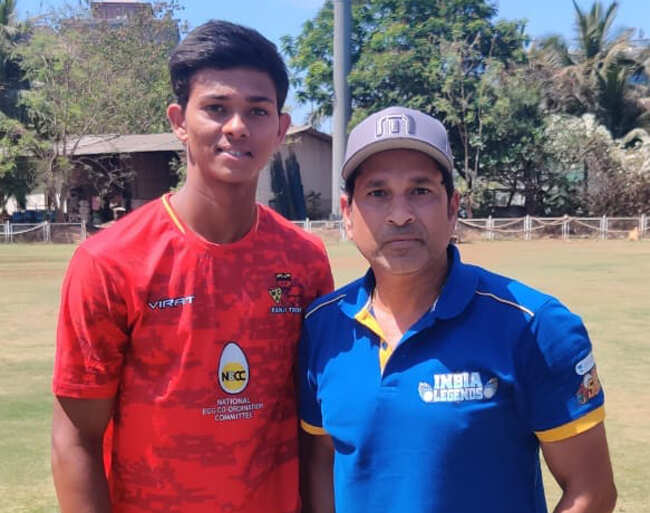 India were chasing their fifth ICC U-19 World Cup title in January-February this year under the leadership of Priyam Garg. Mohammad Kaif (2010), Virat Kohli (2008), Unmukt Chand (2012) and Prithvi Shaw (2018) guided their teams to their respective title wins previously.
Many cricketers from all the four World Cup-winning teams have gone on to represent the Indian senior team, including the likes of Yuvraj Singh, Mohammad Kaif, Virat Kohli, Manish Pandey, Ravindra Jadeja, Venugopal Roy, Shubman Gill and Prithvi Shaw.
But Yashasvi wants to take it one step at a time.
"I just want to learn about cricket every single day. I want to improve my cricket. I am sure the day will come (playing for the senior India team), but I want to take it one step at a time. If I deserve it, I will get it. I will look forward to that day and when it comes, I will give my 200 percent," the left handed Yashasvi told TimesofIndia.com.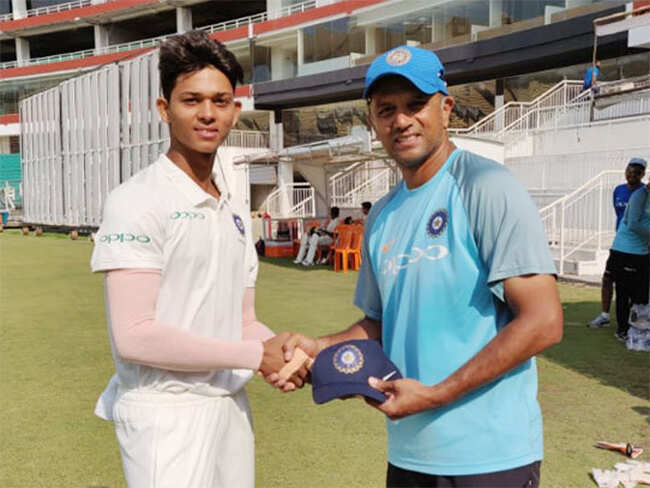 SACHIN'S GIFT AND DRAVID'S TIPS
Yashasvi is a left hander but takes inspiration from batting maestro Sachin Tendulkar. Watching Sachin's batting videos closely have helped Yashasvi take his game to a different level and he wants to excel in the art of playing cover and straight drives the way Tendulkar used to in his career.
Tendulkar also gifted a bat to the youngster with a signed message, which said – 'Dear Yashasvi, enjoy the journey and always give your best.'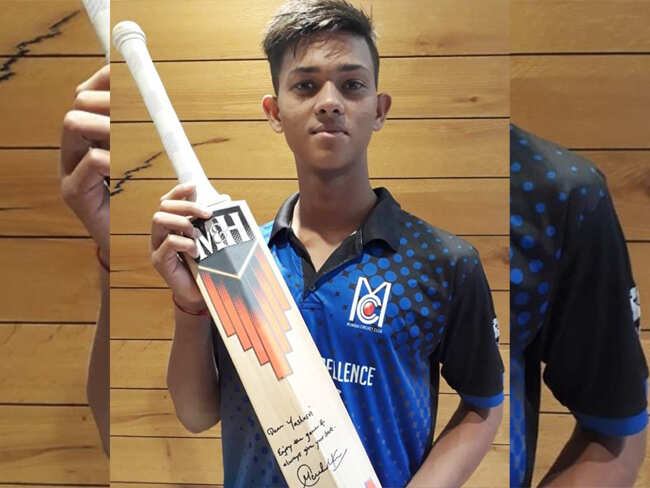 "That bat is broken. But I have kept it in my room as a memory. After the World Cup, I went to meet him (Sachin) at the BKC. He hugged me. I had so many things to ask him. I asked about IPL and my World Cup performance. I know I am a left-hander but I take inspiration from him."
"One can learn a lot from batting videos. I am lucky that I can meet him and learn. Just look at his skills and dedication, they are a class apart," the 18 year old who has played one first-class match so far for Mumbai said before signing off.